About
Axtara - Banking and Finance is a standalone novel written by Max Florschutz.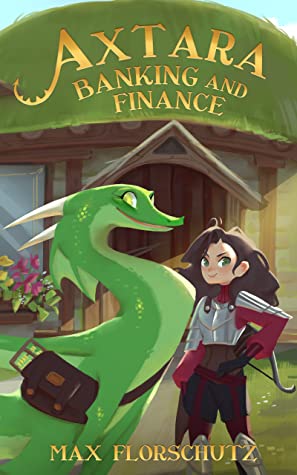 Blurb
Meet Axtara, a young dragon just leaving the nest in pursuit of her lifelong dream: To own and operate her own bank. Her destination? The edge of known civilization: Elnacier. The coastal kingdom is small, but brimming with natural resources and poised for an economic boom if the right conditions can be met.

If. Change is never easy, and Axtara is going to have her claws full founding Elnacier's first bank as she runs up against skeptical townsfolk, stubborn ministers, suspicious business owners, and tradition itself.

Especially as she's also about to be Elnacier's first dragon.
Review
Just what I needed after a short reading slump. A nice and relaxing read, with a generous amount of scenes focusing on consuming good food and beverages.
Axtara is a dragon and experienced enough to open her own bank in a newish kingdom. The people are wary of change and dragons though. Amidst a series of incidents, Axtara and the eldest princess get to know each other and become best friends. With the stamp of approval from royalty, Axtara gets her first few customers. However, the rumors against Axtara continue to grow and the resolution becomes the main focus of the story.
The book was well written, especially when it came to Axtara interacting with the princess and her potential customers. I was impressed with the glimpses of rural industry and the people who ran them. A few chapters that primarily had descriptions of events and self-introspection were a bit boring though. I would've also loved a bit more onscreen magic, a side-character was a great fit but that never materialized.
Overall, I enjoyed this slice-of-life story and would recommend to those looking for a comfort read.
My rating: 🌟🌟🌟🌟☆
What others are saying
From Lisa's review on goodreads:
This was a delightful book written from the perspective of Axtara a dragon. It was fun, and the end had a couple of twists that made me gasp and then laugh. It's a story about friendship and being brave enough to stand between danger and your friend. I would recommend this book to anyone.
From Andrew Pam's review on goodreads:
Charming, entertaining, and well written. A delightful read and characters that I'd happily spend more time with. Recommended for anyone who loves dragons.
Bingo
/r/Fantasy/ 2022 bingo categories:
Standalone (HM)
Name in the Title
Non-Human Protagonist (HM)
Self-Published OR Indie Publisher (HM)